Christmas in Japan is different from most of the world. For one, it's not a national holiday. The Japanese doesn't celebrate it the same—they have their own take and traditions. Nevertheless, Japan still display Christmas decorations and LED lights.
Christmas means to spread happiness, not celebrating its religious meaning. During this event, families eat together. The typical food will be chicken, specifically KFC's Christmas Menu. Another tradition is having a Christmas cake that will be decorated with strawberries and cream. This holiday may be different in Japan, but children still receive gifts and believe in Santa Claus.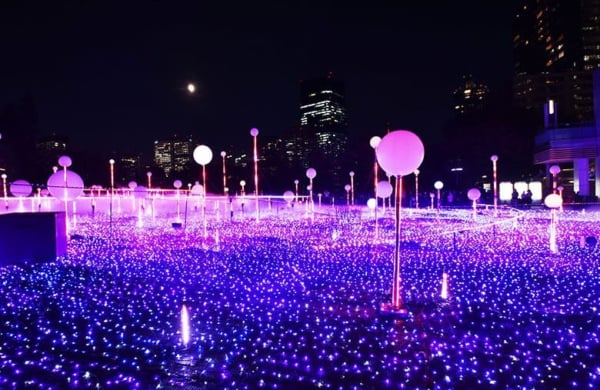 Christmas is bright! LED Light displays open as early as October and will last until February to March. During this time, almost the whole country will be illuminated from parks, train stations, and monuments. Even malls and restaurants are covered in beautiful, twinkling lights. In addition, Tokyo will be celebrating the 20th anniversary of the Marunouchi Illumination. In this specific display, over 300 trees will be covered in champagne gold LED lights.
In Tokyo Disneyland, they have annual Christmas parades like what they do on Halloween. For Christmas, they display fun and festive costumes together with Santa Claus. Tokyo DisneySea will be celebrating their 20th anniversary this year so the festivities will be extra special. Both amusement parks will be having a Mickey and Friends Greeting Parade once or twice daily. The Christmas special starts on November 9th and will last until Christmas day, December 25th.
Although Christmas is not celebrated for its religious meaning, it's still festive and joyous. In addition, Christmas eve is actually a holiday for couples. The young couples will book romantic dinners at restaurants or even plan to go to the amusement park. Regardless of how they want to spend their time, it will often be with their significant other. This day is Japan's version of Valentine's Day.
Come the actual Christmas day, everything usually goes back to the way they were. Establishments will be open for business and workers will go back to their mundane tasks. December 25th is nothing special, but it is the time to welcome the New Year's season.
People will nevertheless celebrate Christmas with the people they care about. Having the chance to eat together and give gifts just because you want to is enough. It's a time to reunite with family and friends or your significant other. It is also a day for people to take a break and just be happy.